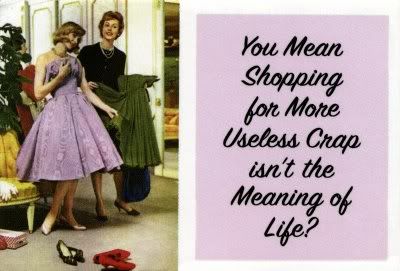 I've said it before, I hate to shop. Somehow when they handed out this girly gene I was standing in another line..the smartass line perhaps. I especially hate to shop when I am on a mission, when there is something I must have by a certain deadline, usually tomorrow. I truly despiste mall shopping, and when I must trudge through the stores I prefer to do it solo. Since my girls have been old enough, they have done their school shopping alone. My family & friends call me for the fun stuff, treasure hunting I call it..you know, thrift stores, TJ Maxx, consignment shops, etc. Otherwise, they realize I am simply not good company and would rather take my credit card but leave me at home.
So, guess what I have to do today? I am taking my daughters to the mall to shop for dresses for a wedding that we must attend on Saturday. Did I mention that this is the wedding of my ex-husband? And that I am 20 pounds overweight?

This is so not going to be a good day.