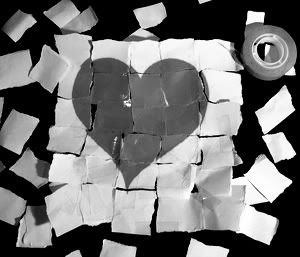 No, not me, but someone very close to me..her heart is just shattered in pieces and I don't know how to help her. I just stand by helplessly watching her cry, such a horrible feeling. How do you explain to someone that even though you feel as if you're going to die, that there is no way through this, you'll never feel better..you will. Each day your heart will heal just a bit more, you'll come out of the darkness step by step, and one day the only thing left from this experience will be a tiny little soreness, a tender spot that hurts when you think of him.
Really, honey, this is true. And on the other side I assure you that you'll find someone so much better, someone who loves & appreciates you for the amazing young woman that you are. Just wait, you'll see. I promise. In the meantime, I am here for whatever you need - I'll listen, I'll hug, I'll love. I hope through all of this you'll remember how many more people out there love you, how insignificant this one boy is..how blind he must be if he can't see the beauty in you. You will be ok, you will be better than ok...you will come out stronger and smarter and happier in the end.
Please don't forget how much you are cherished, adored, and treasured..
you are the middle-of-my-heart.