I'm making baked ziti today, using ingredients I have on hand in the pantry/fridge, but realize that I'm out of spaghetti sauce. I do, however, have tomatoes, etc. so I'm just going to make my own. It's been years since I made my own "gravy," as my Italian exes called it, and this is nothing like their recipe, but if Emeril says it's good, then it must be!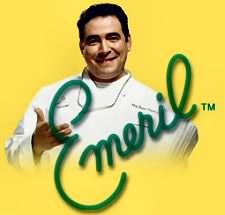 Basic Marinara Sauce
Recipe courtesy
Emeril Lagasse
, 2004
1 tablespoon olive oil
2 garlic cloves, peeled and minced
1 medium onion, peeled and thinly sliced
1 teaspoon Italian seasoning
2 (28-ounce) cans diced tomatoes in juice
1 (28-ounce) can tomato puree
2 tablespoons chopped fresh parsley leaves
Heat olive oil in large Dutch oven over medium heat. Add garlic and onion and cook, stirring, until tender, 5 to 6 minutes. Add the Italian seasoning and cook for 30 seconds. Add the diced tomatoes with juice, the tomato puree, and parsley. Stir to blend and reduce the heat to low and simmer for 1 hour.
Recipe Summary
Difficulty: Easy
Prep Time: 5 minutes
Cook Time: 1 hour 5 minutes
Yield: about 2 quarts
User Rating: 5 Stars
Episode#: EE2E15
Copyright © 2006 Television Food Network, G.P., All Rights Reserved