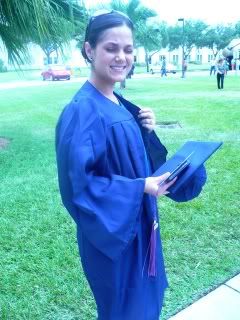 I am a proud Mama today after watching my eldest daughter receive her diploma today. She graduated from FIU with her Bachelor's degree, whoo-hoo!
The truly amazing part is that she did this in addition to living on her own (with her fiance) for the past 3 years, paying her own bills, taking care of a houseful of animals, being a wonderful girlfriend/daughter/sister/friend. For the past 9 months she has also become engaged and has been planning her wedding! It makes my head spin just to listen to her schedule, there is no way I could have done it!
Congratulations, Kali. There are no words to expres just how proud I am of you.
I love you, sweetie!