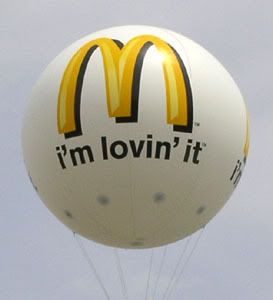 Those who know me in "real life" are well-aware of my anti-junk food lifestyle, the fact that I made a resolution to give up fast food back in 2001 and have rarely cheated. I don't need it, want it, or miss it most of the time. I love to cook and there are soooo many more delicious, healthy (and perhaps unhealthy) things out there to eat that don't come in paper bags from drive-thru windows.
However......ever since my Mom got sick she's been losing weight..rapidly. My always-svelte Mama is now about 86 pounds..gulp..she's lost about 20 pounds in a few months. When we asked her doctor how to combat this issue, he suggested supplements, appetite enhancers, and the "see food diet." So that's what we're doing. Anything she wants, we get. Homemade stuffed shells from my kitchen? You got it. Lily's key lime pie? Done deal. Anything else? Yes..McDonalds. Almost every day she requests it. Big macs. Fries. Milk Shakes. Cheeseburgers. The works! So, we giggle and we oblige. One day last week Lily made three separate trips to the hospital's McDonald's, and my vegetarian daughter was more than happy to do it. Today I brought her a happy meal and watched her face light up as she played with the silly little toy, was the absolute highlight of my day!
So, f**k mad cow disease, to hell with fat & cholesterol! I'm putting aside my snobby, fast-food hating attitude and driving through those golden arches every chance I get. 'Cause if it's good enough for my Mom, if it's putting meat on her bones and making her just a little bit stronger, if it makes her smile as she gobbles up that happy meal and slurps that calorie-laden shake, it's damned good enough for me!
Thank you, Ronald. I'm
lovin
' it!