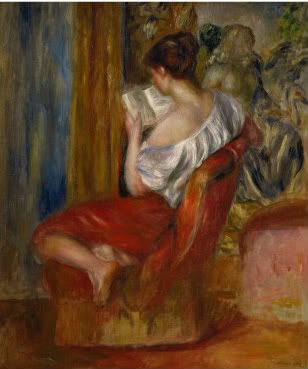 November 24, 2008
Contentment At Home
Leo Daily Horoscope

You may feel satisfied to stay at home today. This satisfaction could leave you experiencing a sense of calm. Today would be a good day to disconnect from the immediacy of the outside world and become your own best companion. Take the time to relish the sensation of being in a safe environment—one that helps you recharge your energy. Consider tuning out the media and other external distractions such as the phone. You may be surprised to find that when you give yourself space to experience peace and quiet, you require less from the outside world in order to feel satisfied.

When we take time for ourselves at home, we can experience serenity and find our center again. It may seem that taking time off from the world means we become less engaged and withdrawn and that we shut ourselves off from everything around us. In fact, the opposite happens. By giving ourselves time at home to experience peace and quiet, we replenish our energy supply and have more to give to the rest of our life. We also experience the pleasure that comes from allowing ourselves to simply be. Our home is one of the best places where we can find peace. Let yourself spend time at home with minimum distractions today, and you will experience peace and satisfaction without needing anything but your own company.
Fueled by raging PMS hormones, I did some serious buttkicking on the castle this weekend. I started the beating on Thursday afternoon and Friday while Beren was still at work, managed to dash through many items on our To-Do List. The more I completed, the more motivation I gained. Saturday morning I continued on with some bulk cooking, got a couple of meals in the freezer which will come in handy during the busy-ness of the coming months.
After a nice Saturday evening out, we woke up yesterday morning, puttered around the house a bit and then hosted an impromptu lunch for the kids, Beren watched football in between doing some outdoor "manly" chores, just generally enjoyed a peaceful Sunday together.
Today will be more of the same, intend to tackle a couple of decluttering projects yet then I will light a couple of candles, put on some music, open a good book, just relax and enjoy the fruits of my labors. I'm really looking forward to it.